Holiday Apartments directly at Fjord
Apartments by the fjord for self-catering.
Click here for a detailed overview

Every Apartment is designed for up to 4 (+1) persons.

Every flat has a bedroom, bathroom, kitchen, livingroom and an entrance hall. Free Wi-Fi and TV with international channels.
Our apartments are covered with wood panelling on the walls. The apartments have equipment for the comfort of our guests.
You will find everything you need for 4 persons in the kitchen, and of course a coffemaschine, fridge, microwave, toaster, mixer, oven etc. etc..
In the bedroom you find a double bed and blankets and pillows for all the guests.
( you only have to bring your own bedclothes! - or you can rent this from us).

From the livingroom you have a wonderful view out on the fjord and the mountains along the fjord. In apartment type A, you find a double bed-couch in the livingroom. In apartment type B, there is also a seperate room with bunkbeds.
Each apartment has a big bathroom with a shower and toilet.
Down in the cellar we have sauna, hot tub, washingmaschine, cloth dryer, freezers, garden furniture and outdoor barbecue.

At the fjord you will find our boats and the sea-house. For your own safety we have lifejackets for all our guests. If you want to smoke your own fish, we have made it possible with our smoking-oven by the fjord.
We have made a complete "Tourist-guide" in english, that guides you to every sights around Angvik. We have described about 25 places and destinations that you can visit from Angvika by car, foot or boat. You can find this guide in a folder in your apartment.
The apartments are located at the Tingvollfjord in the little village called Angvika. You have a beautiful view from the house. Each apartement has a boats with outboard motor (6HP), and our guests can use them at no extra cost. (You have to pay for the gasoline, of course.)
It is a lot of fish in the fjord, and in the summer it is nice to go swimming in the fjord.
THE VILLAGE ANGVIKA
Angvika is beautifully located by the Tingvoll-fjord in the county of Møre and Romsdal. The village is surrounded by mountains. Angvika has about 400 inhabitants.
In Angvika you find both a postoffice and a grocery shop. For ages farming has been the most important living in Angvik, but in recent
years handcraft and aquaculture (Salmon) have become more and more important.
Not far from Angvika you can find a bigger trading center, Eidsvåg, and two cities; Molde and Kristiansund.
If you like to fish or walk in the mountains, Angvika is the perfect place. Fishing on the fjord is very popular, both from boat and from the shore.
The mountains are very near. They are easy of access, have a lot of good lakes for fishing, and we will recommend a trip into the clean Norwegian nature.
From Angvika you can reach many sights by car. In a circle of less than one and a half hours drive from our apartments you have about 25 different famous sights to visit. Briefly we can mention:

Trollstigen and Trolltindene in Romsdalen/Åndalsnes.
Eikesdalen with Mardøla - the valley with the highest waterfall in North-Europe.
Ona, Grip and Bjørnsund - three fishing stations out in the Ocean.
Molde - with the Romsdalmuseum and the International Jazzfestival in July.
Kristiansund - the city on three islands.
Atlanticroad - the road out in the Atlantic Ocean.

WE WELCOME YOU IN ANGVIK
Gjemnes County
Gjemnes county is between Molde and Kristiansund, approximately 35 km from each town. The classified road 1 (coast classified road) tuns trough the county and makes Gjemnes to a centrally situated county.

Krifast (the continental connection for Frei and Kristiansund) has contributed to that the county has become a junction for communication in the north and west of Norway.
Gjemnes has rich cultural and crafts traditions as well as flourishing tradition of folklore and song.
The mountain wilds surrounding Gjemnes offer excellent opportunities for skiing in the winter and magnificent touring ground with excellent opportunities for hunting and fishing.
The luxuriant fjord landscape shows the Nordmøre region at its best and the fjord basin between Gjemnes, Bergsoy and Angvika is well-known for its good fishing of both salt-water fish, trout and salmon.
Welcome to the "Clover Counties".
In the borderland between the Moere coastline and the high mountains towards Trollheimen, Dovre and Romsdalsfjella are the district of Tingvoll, Gjemnes, Nesset and Sunndal, which together form the "Clover Counties".
These cover an area of almost 3500 km2 with steep mountains, gentle ridges, fjords, waterfalls and bounteous cultural landscape.
The barely 17 000 permanent residents are mainly found along the fjords and in the valleys, in small rural communities.
The town of Sunndalsoera is the only industrial area, which has been developed around the cornerstone company, Hydro Aluminium, over the past 40-50 years.
Both the buildings and the cultural landscape are characterized by farming as the peoples' way of life from time immemorial. Farming continues to be important, but smaller industrial enterprises and service companies are gradually beginning to make their mark on more populated areas.
The "Clover Counties" have long, historical traditions regarding communications. The Vikings transported their ships by land in order to avoid our exposed coastline. Later, both passengers and post were transported through our districts along the coast between Bergen and Trondheim.
The fine church at Tingvoll is one thing which bear witness to the fact that the area was an important junction in our part of the country. Today, Krifast (the Kristiansund mainland causeway) links Kristiansund and lager parts of the region without using ferries.
Information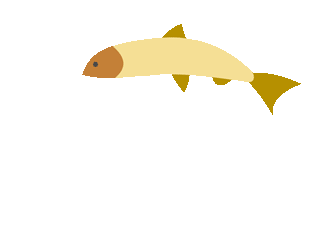 We are registrered, and each guests can bring 20 kg with fish back home.

If you like to fish or walk in the mountains, Angvika is the perfect place. Fishing on the fjord is very popular, both from boat and from the shore. It is likely that you will catch a cod, coalfish/pollack, or perhaps you are lucky to get a trout or a salmon, or perhaps a macerel.
The mountains are very near. They are easy of access and have a lot of good lakes for fishing. There are several hiking routes from the house.
We have boats (15 feet) with outboard motors, and one boat is included in your rent.
In the summer it is very nice to go swimming in the fjord.


Fishing for trout and salmon is very popular in our rivers. Our apartments are the perfect place to live for those who are interested in salmonfishing. In less than one hours drive you can reach the following rivers:
1) Driva in Sunndalsøra, 50 km away from Angvik.
2) Eira in Eresfjorden, 34 km away from Angvika
3) Øksendals-river in Øksendal, 28 km away from Angvika
4) Batnfjordselva river in Batnfjordsøra, 35 km away from Angvika
5) Oselva in Kleive, 30 km away from Angvik
Be aware of the fact that it is forbidden to fish trout and salmon in rivers from september to June 1.
Angvik Fjordferie is a little family enterprise. We started in 1991, and the purpose of our little business is to rent out the apartments in the house "MYRA".

The owner of Angvik Fjordferie is Ståle Angvik.

We are putting great effort in making your holiday good and comfortable. We are proud of our product, and we hope you have enjoyed reading about our offer. Please make contact for further information.

Hopefully this interests you, and it will please us to welcome you to Angvik.


WE KNOW THE AREA, AND WE HAVE REASONABLE PRICES!
Per Week:
02.05-30.05 : NOK 5000,-
30.05-19.09 : NOK 5700,-
19.09-17.10 : NOK 5000,-

Low seasons:
NOK 4600,-

How much in your currency:?
First choose Norwegian Kroner
​
​
​


Everything is included in this price! No surprising extras!
(But remember you have to clean and wash your apartment yourselves, and bring your own towels and bedwash!)

You can hire your apartment from Saturday till Saturday in the top season. In the low-seasons, that is not so important.

You can arrive after 4.00 pm. and you have to leave your apartment before 10.00 am.

You pay at your arrival - no payment in advance. We prefere cash, but you can pay by VISA/MasterCard, with a fee of 3%
Angvik Fjordferie
Lerkevegen 5
N-2636 ØYER
Apartments
Myra Turist
Sørlandsvegen 2154
N-6636 Angvika